Products
nuway® grid

Contemporary and cost effective alternative
Nuway Grid offers a comtemporary and cost effective alternative to Nuway Tuftiguard and is an ideal solution in high traffic entrance areas where aesthetic considerations are paramount. Nuway Grid single sided rigid mats are attractive, tough and versatile.
Nuway Tuftiguard
Grid component structure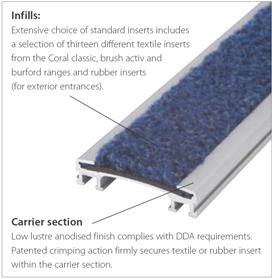 Constructed to spread heavy loads
Every Grid mat features 100% recycled, extruded aluminium interlocking carrier sections for durability, with infill strips joined together by rubber double connecting strips. The aluminium sections have a low-lustre anodised finish to comply with DDA requirements. Grid is constructed to spread heavy loads and to offer long lasting effective performance in demanding locations.
I
nfills
The carrier sections can be coupled with infill materials providing maximum design flexibility, allowing beautifully colour co-ordinated entrance areas to be created with primary and secondary entrance matting products that are perfectly matched.

These materials include strips of textile infill in

12 colourways

drawn from the

Coral Classic and Coral Brush Pure ranges. Other textile inserts from the Coral range are available to special order. Rubber inlays are also available, which allow grid mats to be used outside.